COVID-19: Important information
YOUR WELL-BEING IS OUR PRIORITY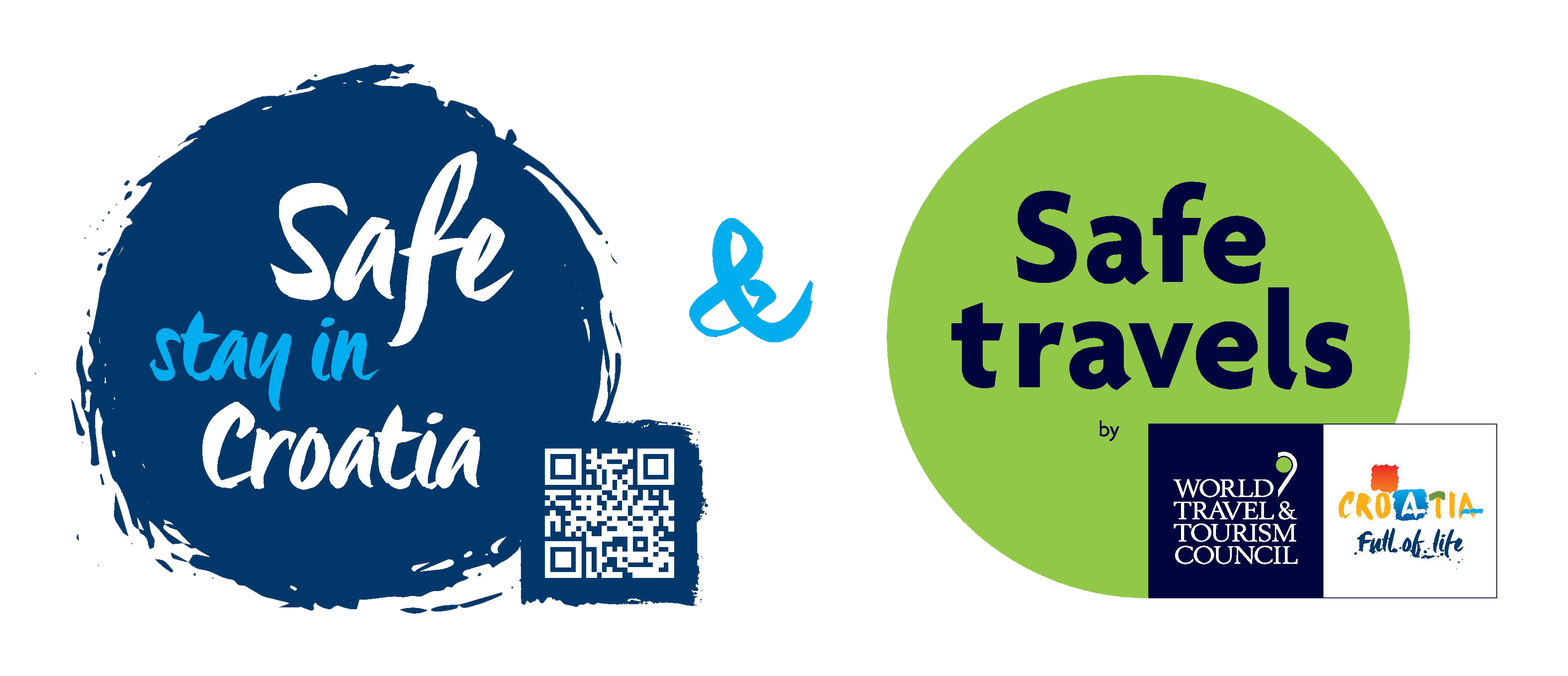 To Maistra Hospitality Group, the well-being of our guests, employees and the community is of the utmost importance. This is why we are taking responsibility and carefully monitoring the development of the situation as well as undertaking steps in line with the recommended procedures and protocols issued by the Croatian National Institute of Public Health and the recommendations of the World Health Organization. We are participating in the Stay Safe in Croatia project which guarantees compliance with the current health and safety recommendations and their implementation.
[DAILY REPORT] The latest number of confirmed cases of infection in Croatia: https://www.croatiacovid19.info/
[TEST INFO] To increase the level of safety and ensure that your holiday is as carefree as possible, we organize testing for all of our guests who stay at our facilities in the destinations of Rovinj and Vrsar and for whom it is required in order to return to their country of residence. The price of a PCR test with results within 24 hours is HRK 375 +VAT (approx. EUR 50 +VAT), and the price of a quick test with results in less than an hour is HRK 100 +VAT (approx. EUR 14 +VAT). Sample taking is performed within Maistra's facilities
For guests staying in Maistra hotels in Zagreb, coronavirus testing is organised according to the following prices: PCR test with results within 24 hours for HRK 400 v (approximately EUR 52 +VAT) and rapid antigen test for HRK 75 +VAT (approximately EUR 10 +VAT). Samples are collected in the hotel.
For all guests staying at Maistra's facilities on the Dubrovnik Riviera, samples are collected in the Sheraton Dubrovnik Riviera Hotel according to the following prices: PCR test with results within 24 hours for HRK 650 +VAT (approximately EUR 87 +VAT) and rapid antigen test for HRK 150 +VAT (approximately EUR 20 +VAT). Sample taking for guests of all Maistra hotels on the Dubrovnik Riviera is performed at the Sheraton Dubrovnik Riviera Hotel.
Test results are in Croatian and English.
Welcome to our hotels and resorts – we are waiting for you!
We understand your need to be flexible in these circumstances, so in order to make your travel planning easier, we now offer flexible booking conditions without any obligations and we guarantee cancellations free of charge.\
Prevention and control
We have always taken the importance of maintaining high standards of hygiene and cleanliness seriously, and now more than ever, considering the current situation. We are training and educating our employees on housekeeping and hygiene protocols on a daily basis. We have also made our already high standards regarding food handling even stricter, and we have increased the cleaning and disinfection frequency of all rooms and surfaces in the building, especially public areas and in particular high-touch surfaces.
Here you can find all of the information about the current measures we have implemented in our facilities, as well as useful information regarding your arrival and stay at your destination.
Reception desk
Possibility of electronic check-in via e-mail before arrival at your destination.
Availability of detailed information for guests on measures implemented in order to combat COVID-19.
Limited freedom of movement and time spent at the reception desk.
Use of a protective barrier at the reception desk.
Social distancing in the area surrounding the reception desk.
Availability of protective masks, gloves and disinfectant on request.
Availability of hand disinfectant at the entrance to the property, as well as the reception desk or lobby.
Option of announcing your checkout in advance for the staff to be able to prepare your invoice and reduce the time spent at the reception desk.
Restaurants and bars
Availability of hand disinfectants at entrances to restaurants and bars.
Protective face masks are mandatory.
The distance between tables indoors is 4 m, while the distance between chairs is 2 m. On terraces, i.e. outdoors, the distance between tables is 3 m, while chairs between adjacent tables are at the prescribed distance of 1.5 m.
Table arrangement that facilitates social distancing between guests.
Employees are trained to follow safety and hygiene standards while preparing food and serving guests.
Staff follows good practices in maintaining personal hygiene (frequent hand washing, following hygiene regulations while coughing).
Maistra has implemented self-inspection following the company's guidelines on food safety.
In à la carte restaurants tables are kept empty until guests arrive and cutlery is not set until the guests are seated. In restaurants buffet-style restaurants serving half- and full-board meals, all tables are set before the restaurant is opened and they are set again only if new guests arrive at the table.
Tables, menus and price lists, as well as all other items on the table, are disinfected and the table setting is replaced after every guest.
Housekeeping
Implementation of a new cleaning plan which includes disinfection of all surfaces and areas.
Availability of information to the guests on new cleaning procedures and bed linen changes.
More frequent washing and disinfecting of bed linen and towels.
Room cleaning, bed linen and towel change only on guest's request after arrival at the hotel or while they are at the reception.
Cleaning staff wear gloves and masks.
During room cleaning, windows and doors are open in order to increase air circulation and ensure proper ventilation of the room.
After filling, the minibar is labelled with a protective sticker or it is filled only on the guest's request. The minibar can be refilled by calling the reception desk.
Special attention is given to disinfecting frequently touched surfaces in the accommodation unit (furniture, minibar, light switches, telephone, hair dryer, safe, knobs, remote control, taps, pushbuttons, hangers, etc.).
Implementation of a detailed plan of cleaning and disinfecting frequently touched objects and surfaces in public areas.
Availability of hand disinfectant in different locations and areas of the property, including public toilets used by guests and staff and other relevant spaces.
Availability of instructions on proper hand washing in public toilets.
Availability of cleaning schedule in public toilets.
Conventions
Setting conference and meeting rooms in accordance with current recommendations of the Croatian National Institute of Public Health with a distance between chairs of 2 m.
Wearing face masks is mandatory for all conference participants.
The maximum number of participants is determined in accordance with the National Civil Protection Headquarters' decision.
Kids Club at the family hotel Amarin
Working hours of the Kids Club are from 9am to 8pm, with a break from 1 to 2pm when the area is disinfected and ventilated.
Obligatory registration for a certain activity and group.
Parents bring their child with the Kids Club registration form, which they received at the reception desk at check-in, completed in advance.
Temperature checks, hand disinfection and checking for symptoms of cold are carried out before entering the children's area.
Children with high temperature and signs of cold are not allowed in the Kids Club.
Availability of disinfectant at the entrance to the children's area.
Children in the Kids Club must wear socks only.
Parents bringing and collecting children must strictly follow the prescribed measures of social distancing.
Other person, including parents, should avoid entering the rooms where the children spend time.
Daily showing of a special children's programme.
Toy disinfection several times a day.
Children with special needs may spend time in the children's area with prior arrangement with the staff.
Babysitting is available on request and is charged extra.
Toilet in the children's area is intended only for children.
Blue net – Children may use the blue net only in socks. It is not possible to use the blue net from 1 to 2 pm when the area is disinfected.
Beach, pool, spa
The staff wear protective masks and other protective equipment when needed during work and maintenance.
Implementation of a new disinfection plan of high-touch objects and surfaces.
At pools and beaches, social distancing is ensured by the sunlounger layout plan.
Sunloungers are disinfected regularly. Covering the sunlounger with a towel before use is recommended.
All types of saunas are open thanks to the bipolar ionisers which ensure continuous sauna disinfection.
Saunas and common areas are ventilated using fresh air where possible.
The number of people in the sauna at any one time is limited.
Family Hotel Amarin – For your own safety and to avoid crowds, during autumn, winter and spring it is necessary to make a reservation for use of indoor pools and saunas.
You can make a reservation in the hotel, at the Marwel Wellness reception desk.
Operational activities
We follow guidelines and recommendations of local authorities: https://www.hzjz.hr/sluzba-epidemiologija-zarazne-bolesti/koronavirus-najnovije-preporuke/.
Regular hand washing with soap and water or using alcohol-based disinfectant.
When coughing and sneezing, mouth and nose are covered with an elbow or a tissue which is later discarded and hands are washed.
Avoidance of touching face, mouth, nose and eyes.
Avoidance of close contact with people who are unwell or have symptoms such as high temperature, coughing and/or breathing difficulties.
Avoidance of handshakes or close physical contact; maintaining social distancing.
Mandatory use of protective gloves for the staff serving food and working in maintenance.
Tracking staff body temperature using a contactless thermometer every day upon their arrival at work. Records are kept on body temperature measurements in order to ensure health and safety of employees at all times.
Employees who do not feel well should stay at home, contact their doctor and avoid going to a healthcare facility, unless advised by their doctor.
A procedure in case of a coronavirus occurrence in any of our properties has been defined along with all of the standard operating procedures and contact numbers (https://www.hzjz.hr/sluzba-epidemiologija-zarazne-bolesti/postupanje-zdravstvenih-djelatnika-u-slucaju-postavljanja-sumnje-na-novi-koronavirus-2019-ncov/).
Your safety is our priority – how you can help
In order to help us protect you and our staff, follow instructions and recommendations of the government:
Wash your hands regularly with soap and water or use alcohol-based hand disinfectant.
When coughing or sneezing, cover your mouth and nose with your elbow or a tissue you will then discard and wash your hands.
Avoid touching your face, mouth, nose and eyes.
Avoid close contact with sick people who have symptoms such as high temperature, coughing or breathing difficulties.
Avoid handshakes and close physical contact; maintain social distancing (at least 2 m).
Wear a protective face mask when in indoor public areas (reception desk area, bars and restaurants until seated at a table, conference rooms, animation areas…)
If you notice symptoms such as high temperature, coughing and/or breathing difficulties, call the reception desk from your room.
PICTOGRAM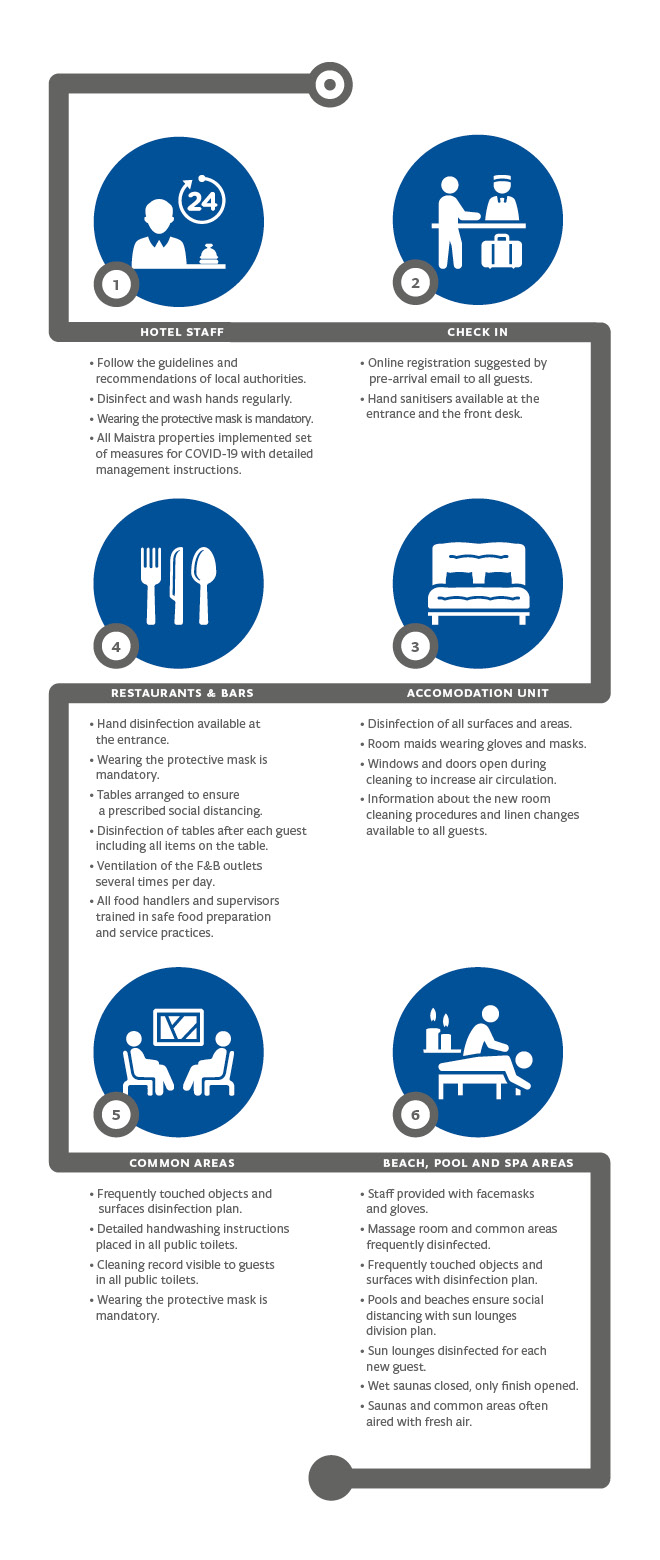 Rules on border crossing
To cross the border easier and faster, we recommend that you send your data in advance using the website entercroatia.mup.hr. That way, you can avoid spending additional time at the border crossing since the border police will already have your data in the system.
On the European Commission website 'Re-open EU' you can find information on travelling within the borders of the European Union, situation on border crossings and all of the available transport and tourist services in the member states of the European Union.
For more information on the coronavirus, visit the official Croatian Government website www.koronavirus.hr/en
Frequently asked questions
What do we need to enter Croatia?
Current information on entering the Republic of Croatia can be checked at www.koronavirus.hr/en.
To enter and stay in Croatia more easily, please complete an online form at entercroatia.mup.hr.
Are all of the amenities at the property available and what measures should guests follow?
Guests can use all of the amenities at the property. Opening times of restaurants, bars, wellness and spa centres, and sports facilities are available on the property's website.
According to the latest recommendations and decisions of the relevant institutions, face masks must be worn in closed public spaces.
Do we have to be in self-isolation when we return home?
Please contact the appropriate authorities in your country of residence about the conditions of your return.
What happens if a guest is infected during their stay? What happens to others who stayed at the same property?
In case of a suspected COVID-19 infection, the hotel staff will contact the appropriate healthcare facilities, who will proceed in accordance with a defined protocol. The details of the protocol can be found at https://www.hzjz.hr/sluzba-epidemiologija-zarazne-bolesti/postupanje-zdravstvenih-djelatnika-u-slucaju-postavljanja-sumnje-na-novi-koronavirus-2019-ncov
Do cancellation conditions change if a guest is infected?
They do not change.
How are the numbers of guests at the pool, beach, restaurant, and wellness centre, as well as the social distance between them, controlled?
At pools and beaches, social distancing is ensured by the sunlounger layout plan. Guests are also advised to follow protective measures in order to protect themselves, other guests and staff.
What has changed in comparison to 2019?
All of the news about the operation, current offer and service of an individual property can be found on our website.
We will continue to follow the guidelines of the local and international health authorities and implement all relevant health and safety measures in order to provide our valued guests with a safe environment and a desired service level.
We hope that you and your family stay safe and that we will be able to welcome you soon!
Maistra Hospitality Group