Get to know Vrsar
---
Once a modest fishing village, this charming town on the west coast of Istria is located at the entrance to Lim Bay. Climb one of the lookouts in the medieval old town situated on a hill by the sea and enjoy the view of the 18-island archipelago. Who knows, maybe the notorious Casanova came to Vrsar by sailing between those very islands.
The people of Vrsar are mostly farmers, wine growers, fishermen or engaged in tourism, though not necessarily in that order.
With an archipelago of 18 uninhabited islands just opposite the town, and more than 190 permanent quayside berths in the marina open all year round, Vrsar is a sailor's paradise, with aeronautic sports coming in second, with parachuting, parasailing and panoramic flights in sports planes. Of course, there are many other options for an active holiday worth exploring around Vrsar, whether you are a walker, biker, swimmer or diver.
All of this is made possible by the gentle Mediterranean climate working hand in hand with a beautiful, indented coastline and the pristine nature that surrounds Vrsar.
Adventurers and wanderers will find Vrsar a perfect base for in-depth exploration of Istria, maybe even Croatia, but whatever you do, you must visit Lim Bay and then Rovinj.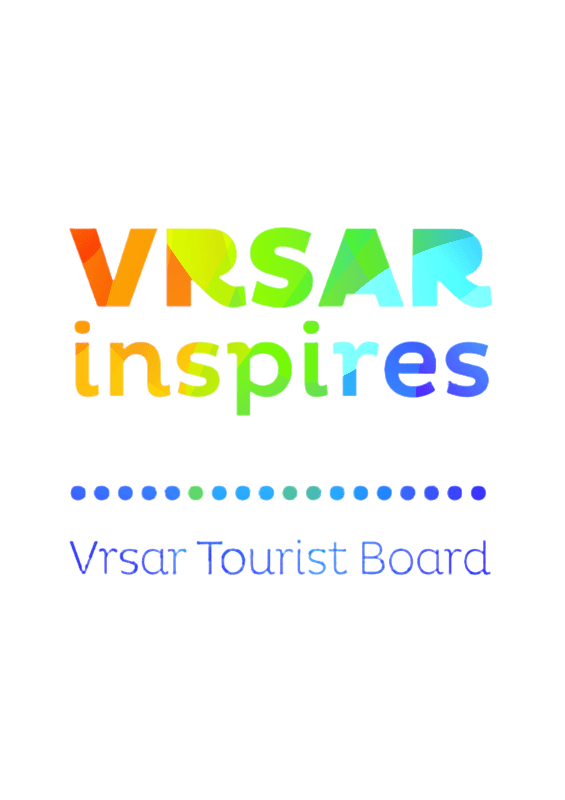 Top 10 things to do in Vrsar
Panoramic airplane flight

---

Vrsar is one of the rare places in Istria that has its own recreational airfield. Take advantage of it and enjoy a panoramic flight over Vrsar, the archipelago and Lim Bay.
Visit the street of Casanova

---

The famous lover stayed in Vrsar on two occasions, in 1743. and in 1744. If his comprehensive memoirs are to be trusted, a few local beauties fell under his charms during each stay.
Visit Kaštel – Bishop of Poreč's summer residence and churches

---

The present-day palace came to be by partitioning the original Romanesque castle, and was used as the Bishop of Poreč's summer residence. It comprised a fortified building with a cistern and four flanking towers that are a continuation of Vrsar's walls and which date back to the 15th century.
Visit Dušan Džamonja's Sculpture Park

---

The sculptures, graphics and drawings displayed in this monumental complex comprising a house and sculpture park belong to one of the greatest Croatian and European modern sculptors, Dušan Džamonja. At the end of August, Vrsar becomes a mecca for sculpture lovers, as the Montraker international school of sculpture is organised here at that time each year.
Enjoy the view from three romantic viewpoints

---

The vantage points offer a view of the Vrsar archipelago and are decorated with sculptures made in the workshops of the Montraker school of sculpture – a stylish stone table and a resting bench.
Take a ride down the Vrsar-Lim-Vrsar eco bike trail

---

The eco bike trail in the vicinity of Vrsar offers cyclists three types of ride: the shortest and easiest one, a medium length trail for the moderately advanced cyclist, and the longest trail that reveals the full glory of Istria and the Mediterranean. On their ride, cyclists pass a deposit of ceramics from the Bronze Age on the main summit, then proceed to Dušan Džamonja's Sculpture Park, and finally make their way to the Crljenka recreational airfield or Lim Bay.
Take a stroll through Kontija Forest

---

This 140-year-old forest of Oriental hornbeam and other kinds of tree is the best preserved of its kind in Istria.
Visit Romuald's Cave and Lim Bay

---

Lim Bay enjoys the status of a preserved landscape. It is over 10 km long and looks like a fjord, shaped by the dissolution of the limestone bedrock. A cliff for climbing is found on its northern side, and Romuald's Cave on its southern side. Traces of the life of Paleolithic hunters have also been found here.
---

Vrsar has the longest tradition of holding fishermen's festivities which last from spring till autumn. For more information about these folk evening activities on the Vrsar Riviera, check the Event Calendar.
Visit to Funtana Dinopark

---

Funtana Dinopark is the first amusement park in Croatia dedicated to life-size dinosaurs. Numerous remains of dinosaurs have been discovered in different locations across Istria and have become part of the peninsula's story. Take this amusing journey way back into the past and experience these unusual creatures.
General information
Vrsar has a Mediterranean climate with mild winters and long warm summers. Even in winter, the temperature rarely drops below zero. The average air temperature in spring is 12.5°C, 23.4°C in summer, 15.6°C in autumn and drops down to 5.5°C in winter.

Population: 2,703
Area: 22.9 km²
Density: 118 ppl/km²
Climate: Mediterranean
January: 5°C to 9°C
August: 22°C to 25°C
Sea temperature:
June: 22°C
July: 24°C
August/September: 23°C
Distance
Pula, Croatia

54km

Rijeka, Croatia

134km

Zagreb, Croatia

255km

Ljubljana, Slovenija

183km

Trieste, Italy

77km

Venice, Italy

229km