MaiStar Rewards Club
With gratitude from your first stay
---
Join MaiStar Rewards Club and enjoy our gratitude from your first stay.
Become a member
About the programme
---
As a member of the MaiStar Rewards Club, you enjoy exclusive benefits across our extraordinary portfolio of brands.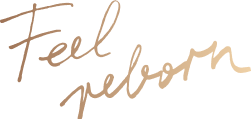 MaiStar Rewards Club benefits
Up to 20% discount for bookings at maistra.com

Accept our gratitude by considering the best deals prepared just for you. Get exclusive member rates for premium experiences by booking directly through the Maistra reservations centre at maistra.com

Collect points and redeem exclusive rewards

Everyone will enjoy their stay, but only members of the MaiStar Rewards Club will be rewarded with 10 points for every euro spent in our properties during their stay. Returns are greater with each higher tier. Spend points to get rewards and discounts only available to our members.

Exclusive members-only offers

Our way is to treat each guest as a good friend coming to visit. As a member, you'll get personalised offers, access to private sales on the maistra.com website and, to show you our gratitude, a birthday surprise.

Your online account – everything in one place

We keep it simple. Track your booking history and points balance, find available rewards and share your points with family and friends. All in one place.
How it works
---
Find out more about our programme by following the next few steps.
Join The Club
We don't waste your time, so the registration process is fast and simple. 
Simply register online, or book your stay with up to a 20% discount, and you'll automatically be awarded MaiStar Blue membership. Your digital membership card will be conveniently stored in your email or your online account.
Collect points
Collect points every time you stay with us!
Points are our way of expressing gratitude. We'll reward you with 10 points in your membership account with every euro spent on qualifying room rates, and 12 points per euro spent on additional services (restaurants, bars, wellness, etc.) The reward for each euro spent is higher with every tier. Your points will be credited to your account within two days of you settling your bill.
Complete your account and add your birthday info. We'll reward your effort with even more points on your balance.
Redeem your rewards
Every time you wish to use your points and treat yourself to a little something extra, just log into your account and find out what rewards are available to you. 
Choose the offer you would like to use and present your MaiStar Rewards Club membership card at the point of sale (wellness, restaurant, sports club, etc.)
Higher tier, more benefits
Unlock more benefits each time you move to a higher tier.
The higher the tier, the higher the rewards. Once you get to 20,000 points or have stayed 10 nights in one calendar year, you move up to the next tier – MaiStar Silver, and additional benefits will become available to you automatically, as well as an extended rewards selection. 
To achieve the MaiStar Gold tier, you need to collect 70,000 points or stay 25 nights. Once you have reached 150,000 points and stayed 40 nights, you have made it to MaiStar Black – the highest and the most rewarding tier.
Membership tiers & benefits
---
Your loyalty membership gives you access to a range of exclusive benefits the second you join the programme. Level upgrades are awarded according to the number of nights spent or the amount spent.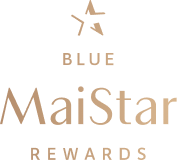 Level 2
Stay 10 or more nights
Spend €2,000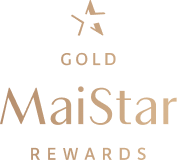 Level 3
Stay 25 or more nights
Spend €7,000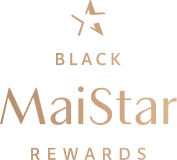 Level 4
Stay 40 or more nights and
Spend €15,000
Explore all the benefits
Discover MaiStar experiences
---
Redeem your points toward selected rewards and experiences.
How can I become a member of the MaiStar Rewards Club?

---

Firstly, we would be delighted to share our club with you!

Secondly, the membership process is initiated online or through direct contact with an employee of the company.

Membership process initiated online

when booking accommodation online on the official website of the company (after selecting the lowest online price offered – "Member-Only Rate")
by filling in the online form on the official website of the company

Membership initiated through direct contact with an employee

when booking through the reservation centre
at the reception of the property

And thirdly, we can't wait to have you on board!
I have joined the programme, but I cannot access my online account. What do I have to do?

---

If you joined the programme while booking accommodation on maistra.com, through the reservation centre or at the reception of a property – you must activate the online account, or create access data. Click 

here

 to activate. If your account has already been activated, but you are not sure about the accuracy of the entered password – please use the "forgotten password" option. If a problem with sign-in still exists, please contact our membership support at the email address: 

loyalty@maistra.hr

.
What are the different membership tiers and rewards?

---

MaiStar Blue

• MaiStar Rewards customer care • Member rates – lowest rates available at maistra.com or through the reservations centre • Advance access to private sales at maistra.com • Exclusive "members-only" offers

MaiStar Silver

• In addition to the benefits of the above membership tier, you will receive: • A bottle of water on arrival (1) • Laundry machine token for one cycle (2)

1 Members staying at Maistra Camping properties – valid only for mobile homes and glamping tents. 2 Members staying at Maistra Camping properties – valid only for pitches.

MaiStar Gold

• In addition to the benefits of the above membership tiers, you will receive: • A bottle of wine on arrival (3) • Priority check-in (4) • Preferred accommodation unit number (5) • Upgrade to next room category (6) • Delicacies package on arrival (7) • Turndown service evening gifts (8)

3 Valid only for members staying at Maistra Select and Maistra Camping properties. 4 Valid subject to availability, only for guests staying at Maistra Collection properties. 5 Valid subject to availability, please contact our reservation centre for this benefit. 6 Valid subject to availability on arrival. 7&8 Valid only for members staying at Maistra Collection properties.

MaiStar Black

• In addition to the benefits of the above membership tiers, you will receive: • First priority table reservations at Maistra Restaurants (9) • One free car wash per stay (10) • MaiStar Rewards experience of choice (11) • VIP access to selected events and promotions

9&11 Please contact our concierge or reception staff for more details. 10 Valid only for members staying at Maistra Collection properties.
Do I have to pay for MaiStar Rewards Club membership?

---

Of course not: membership of the programme is free and voluntary.
How do I get my MaiStar Rewards Club card?

---

Actually, it's pretty simple.

The card is issued in digital form and, at the special request of the member, it can also be issued in physical form. The digital card is activated automatically upon enrolment. The member receives instructions for downloading the card to his/her email address specified when joining the programme.
More Answers